Virgin Australia boss Paul Scurrah says more than 1000 of the workers it stood down this week will likely be made redundant as the airline grounds almost its entire fleet during the coronavirus pandemic.
The airline on Wednesday announced it had suspended 8000 of its 10,000 workers as it slashed domestic flight capacity by 90 per cent. Qantas has stood down 20,000 of its 30,000 employees.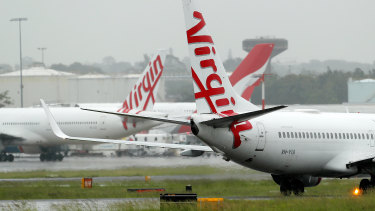 A lot of the staff Virgin Australia stood down earlier this week will be made redundant, the airline says. Credit:Bloomberg
"This is the worst airline crisis the world has ever seen," Mr Scurrah told ABC TV on Thursday morning.
The redundancies are likely to include about 500 roles at Virgin's New Zealand base, which it is looking to close.
The 1000 redundancies are in addition to 750 layoffs announced late last year as part of a restructure designed to lift Virgin's poor financial performance.
The unions representing Qantas and Virgin pilots and engineers wrote to federal transport minister Michael McCormack on Wednesday calling for support for workers to be included in any further industry assistance.
A $715 million industry assistance package announced last week had not been passed to workers, the unions said, with stood-down employees either having to use annual leave or unpaid leave.
"Other countries have already announced support that directly covers aviation industry employees," the letter said.
"The industry needs more government support to ensure it survives this downturn," the unions said.
"What we are asking is that when further aviation support packages are considered, ongoing wage relief be a key element. Australia cannot afford to lose qualified aviation professionals who will play a vital role in relaunching the industry when the COVID-19 downturn ends."
The Transport Workers Union, which represents baggage handlers and ground crew, said the government should step in to pay up to 80 per cent of the wages of stood down airline workers. The British government has launched a similar policy.
The TWU criticised Virgin for standing down staff but said that unlike Qantas, it had agreed to discuss compensation when the crisis passed.
with AAP
Source: Read Full Article