President Donald Trump is the screaming cover star of Time's new issue that explores his mishandling of the coronavirus pandemic and his push to reopen the economy against the advice of public health experts.
Artist Edel Rodriguez depicted the president as yelling ― with a Stars and Stripes mask on his face, but not over his mouth ― to illustrate the cover for the magazine's May 25 edition.
"There's a right way to reopen America. This isn't it," reads the headline:
Time's cover story ― titled "There Are Sensible Ways to Reopen a Country. Then There's America's Approach" ― breaks down the Trump government's fumbled response to the public health crisis. 
It also explains how the U.S. "risks making matters worse" as dozens of states prepare to ease lockdown restrictions aimed at slowing the spread of the contagion.
More than 85,000 people in the U.S. have now died from the virus.
Time last month dedicated an entire issue to the "heroes on the front lines" of the pandemic. Nurses, doctors, grocery store employees and more key workers were featured on a selection of front pages:
Rodriguez's illustrations have turned Trump into a peach, a wrecking ball and a melting man for previous Time covers:
View this post on Instagram
A post shared by TIME (@time) on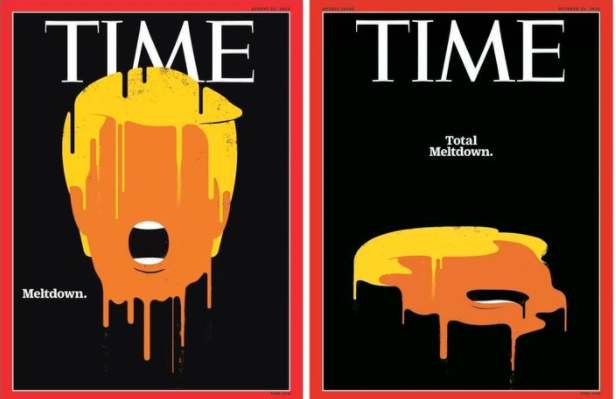 Stay up to date with our live blog as we cover the COVID-19 pandemic
7 essential pieces of relationship advice for couples in quarantine
What you need to know about face masks right now
How to tell if you need to start doing online therapy
Lost your job due to coronavirus? Here's what you need to know.
Parenting during the coronavirus crisis?
The HuffPost guide to working from home
What coronavirus questions are on your mind right now? We want to help you find answers.
Everyone deserves accurate information about COVID-19. Support journalism without a paywall — and keep it free for everyone — by becoming a HuffPost member today.
 
Source: Read Full Article