Dominic Powell, retail reporter at The Sydney Morning Herald and The Age, has edged out Richard Hemming, of Under The Radar Report, to win the Shares Race by one of the narrowest margins in the history of the game.
Just $80 separate the pair in the value of their portfolios at the end of the six-week contest, with Powell finishing with more than a 10 per cent gain on his original investments at $110,781. Hemmings' portfolio was worth $110,701.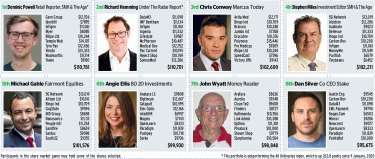 Dominic Powell edges out Richard Hemming to win the six-week Shares RaceCredit:Fairfax Media
Powell did well with four particular stocks. Temple & Webster was top pick, with his original $10,000 investment in the online furniture and homewares retailer soaring to $14,107. His next best pick Vmoto, which makes electric scooters, was worth $13,333.
Others to do well included medical cannabis company Cann Group ($12,706) and challenger bank Tyro Pay ($12,456).
Hemming's best pick was Medical Developments, with his original $10,000 investment in the company, whose product range includes pain management, asthma and resuscitation and veterinary equipment, worth $12,752.
Third-placed Chris Conway, of daily stock market newsletter Marcus Today, held the best-performing stock tip of all – Polynovo. His original $10,000 investment in the the medical technology company grew to a value of $15,446.
The sharemarket, as measured by the S&P/ASX 200 index, finished the week up about one per cent at 7,162 points on Thursday, the day the competition ended.
The Shares Race is a fantasy shares game that runs for six weeks. Players start with $100,000, divided evenly across 10 stocks. Their progress is reported weekly.
Source: Read Full Article