video
Federal Reserve is 'talking tough, but words are not enough': Thomas Hoenig
Former FDIC Vice Chairman Thomas Hoenig discusses the Federal Reserve's 25 point rate hike, Chairman Jerome Powell's comments, the rate hikes from the Bank of England, and the debt ceiling.
Former FDIC Vice Chairman Thomas Hoenig joined "Mornings with Maria" on Thurdsay morning to discuss the January Federal Reserve meeting and rate hike. Hoenig claimed that the Federal Reserve and Jerome Powell's handling of the economy has led to a credibility problem. 
FED RAISES INTEREST RATES BY A QUARTER POINT BUT SIGNALS INFLATION FIGHT'S NOT OVER
THOMAS HOENIG: The market is saying the Fed is done, so inflation's coming down, and now they're going to begin to think about lowering rates again by before the end of the year. The Fed is saying, no, we're just getting started and we want to make sure you understand that we're just getting started, and so we're going to keep rates up, and the discussions inside the Fed will be how long do we keep rates elevated? The market has led the Fed for over a decade and a half. That's why you have the market kind of pushing them to ease more quickly than they might otherwise. And the Fed has a credibility problem. So they're going to have to stick to their guns for a good part of this year, and I think we're going to have this difference going on through most, most of this year. 
Federal Reserve Chairman Jerome Powell  (AP Photo/Manuel Balce Ceneta / AP Newsroom)

… I think part of the problem is yesterday when the Fed raised only a quarter point, only a quarter point, it kind of confirmed what the market has already been thinking. Well, we're getting close. We're going to do this, and so the Fed has slowed down even more, and that signal is, I think, hurting the Fed's credibility. But we'll see. They're still talking tough, but words are not enough, and the market has to be convinced the Fed's now in charge again, which it hasn't been for some time. And I think that's going to be a major factor going forward whether or not they can believe the Fed, the leadership of the Fed.

GET FOX BUSINESS ON THE GO BY CLICKING HERE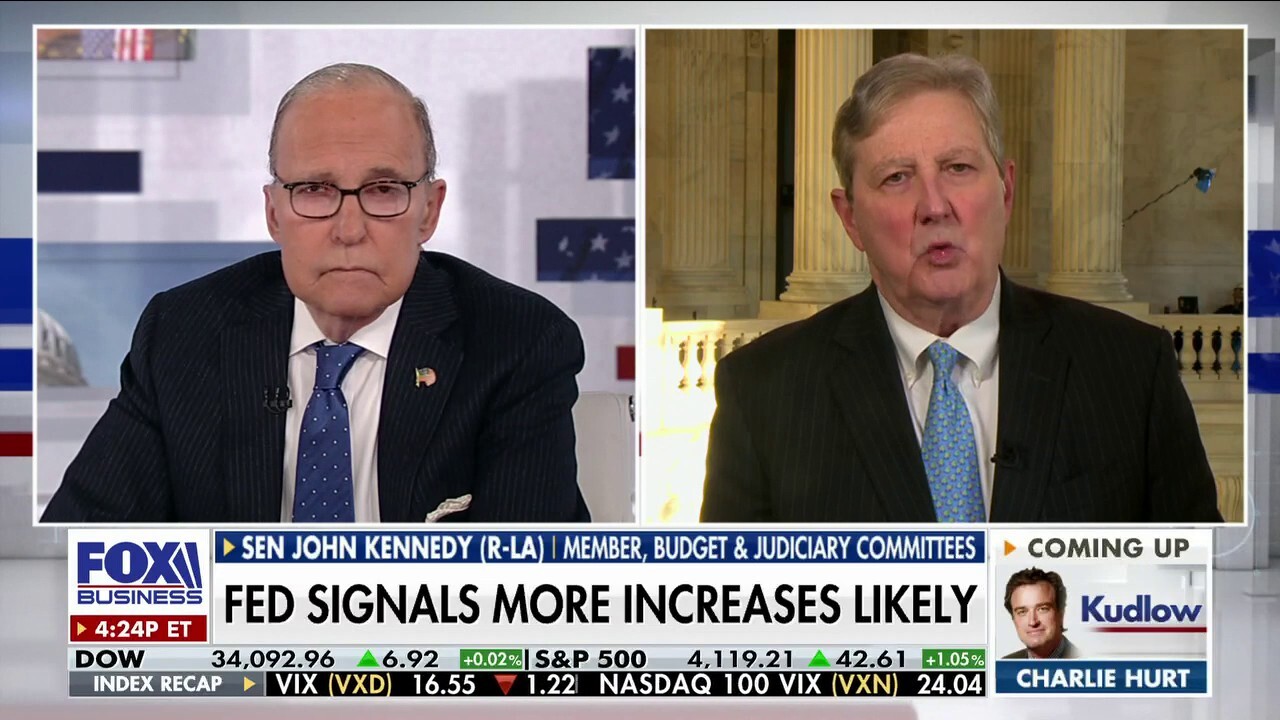 video
John Kennedy: Chairman Powell is serious as an aneurysm
Sen. John Kennedy, R-La., on the meeting between Speaker McCarthy and President Biden and what he thinks needs to be done to slow inflation on 'Kudlow.'

Source: Read Full Article