Two unions representing Air India pilots have asked members not to accept the revised compensation and employment offer, calling the company's proposals "unfair labour practices."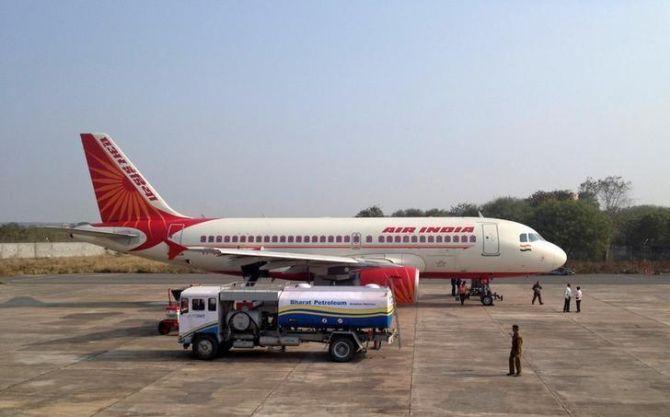 They said any coercion on pilots to sign the offer would lead to industrial unrest.
The Tata group airline announced on Monday a new salary structure for pilots and cabin crew.
It said the flying allowance for pilots has been doubled to 40 hours.
A service reward for pilots, based on years in service, has been introduced.
Allowances have been enhanced and a travel policy is being proposed.
Pilots unions, in an online meeting held on Tuesday, expressed their disappointment with the revisions.
The meeting was attended by 1,000 pilots working with all four Tata group airlines.
While the unions objected to various clauses of the new offer, their main grouse is about promoting captains with more than four years' experience into management.
Unions see the salary proposals as a move to weaken them.
"Where is the company requirement all of a sudden to forcibly promote almost all permanent workmen of the union to the so-called senior commander management cadre?
"It is clear from this that there is a concerted effort to gut the unions and isolate pilots into individual boxes where they can be exploited and victimized at will by the HR department.
"This amounts to unfair labour practices," said the Indian Commercial Pilots Association and the Indian Pilots Guild in a joint letter on Wednesday.
Air India, in a statement, defended its new salary structure.
"The new compensation structure for pilots and cabin crew is our endeavour to bring in parity among different groups, encourage productivity and boost emoluments drawn by them.
"The managerial and supervisory role played by the experienced pilots is also being recognised in the form of designating them as Senior Commander as also offering them a special monthly allowance.
"The contracts reflecting these enhancements were individually sent to the pilots and cabin crew for necessary paperwork.
"A large number of pilots and cabin crew have already accepted the new contracts, and the salary improvements and advancement opportunities they enable.
"The airline will continue to engage with the remainder of its staff through this process as currently there is no recognised union in Air India."
Source: Read Full Article